Welcome to Canstruction Long Island
The Design/Build Competition Fighting Hunger on Long Island
Final Structure Submission:
October 28, 2020
4 p.m.
Virtual Awards Ceremony:
November 19, 2020
6 p.m.
Online Virtual Exhibit:
November 19 - December 3, 2020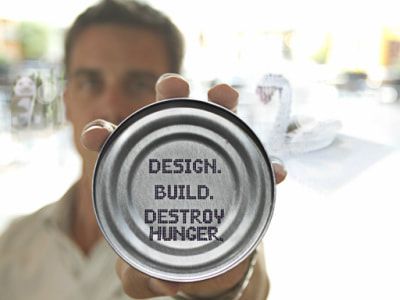 Canstruction Long Island Goes Virtual for 2020!!
In light of COVID-19 and the continued need for social distancing, we are reimagining CANstruction Canstruction LI for 2020. Simultaneously, food insecurity is on the rise and the need in our community is higher than ever.
Our plan for the 2020 event serves both of these goals in an innovative and exciting new way.
Construct your structure in 3D visualization software. Buy virtual cans at a flat cost and avoid sourcing, shopping, and transporting real cans. Create renderings and animations to display your structure at a virtual event. The virtual exhibit remains open for continued viewing and fundraising for People's Choice award. Help our donations go further by raising cash donations in lieu of cans.
Canstruction LI 2020 will be a unique format to address an unprecedented time. We can make this an opportunity to be innovative while rising to the needs of our community presented by the pandemic and economic crisis. Please join us!
Canstruction is the most unique food charity in the world!
For thousands on Long Island, the day begins and ends with the anguish of hunger. Canstruction Long Island is determined to end this suffering. At our event, teams are given 12 hours to defy expectations, logic and gravity as they build fantastic sculptures from thousands of cans of food. Driven by the knowledge that their structures will change lives by lifting the spirits of those in need, by raising public awareness, and most importantly, by filling the shelves of local food banks dedicated volunteers work tirelessly to bring their creations to life. The following day, the super-sized masterpieces are judged in a variety of categories as these unconventional art exhibits are opened to the public. The cost of admission: just one can of food. At the end of the exhibition, all cans are donated to help feed the hungry on Long Island.
Canstruction is using 'one can' as a catalyst for change, 'one can' to represent the building blocks of these massive sculptures, 'one can' to prove that every act of kindness makes a difference. Through the generosity of volunteers, celebrity judges, and members of the community, Canstruction has contributed millions of pounds of food to community food banks demonstrating that we can win the fight against hunger.
Since 2007, the participants of Canstruction Long Island have donated over 530,000 cans, yielding approximately 350,000 meals, along with approximately $60,000 to help fight hunger on Long Island​.
Help us help our neighbors in need … Form a Team, be a Sponsor, donate to Canstruction Long Island!
Canstruction Long Island, Inc. is a recognized 501(c)(3) public charity.
---